Cosmetic Dentistry: A Smile Makeover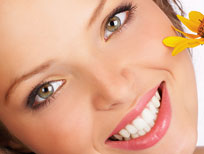 With recent advances in cosmetic dental technology, what was once considered impossible can now be performed routinely. We now have the means and the know-how to treat such conditions as discolored, crooked, and missing teeth - often in one or two visits to a cosmetic dentist, and often without discomfort.
Porcelain veneers have now become a standard part of cosmetic dentistry. These veneers are thin shells of porcelain bonded to the front teeth. Using porcelain veneers, we can change the shape, color and length of your teeth in only two visits - instant orthodontics!
Dental bonding is a widely used phrase that describes how tooth-colored fillings are placed. Using dental bonding, we can eliminate discolored areas, fill in gaps, and also build back areas of gum recession.
Composite fillings (tooth-colored fillings) can now be placed in the back molar areas when tooth decay is detected. These fillings can be used instead of amalgam (silver) fillings and are virtually invisible. Dentists have fun placing composite fillings and patients like them, too.
Teeth whitening is a great treatment for generalized yellow or stained teeth. With custom-fabricated tooth bleaching trays, the bleaching procedure can be done at home at your own convenience. The process generally takes about four to six weeks and the results are very impressive.
With the treatment options available today, it's possible to have the smile you've always wanted. Let your dentist know if you're interested in learning more about these advances in cosmetic dentistry.
Cosmetic Dentistry Combines Art and Science
Cosmetic dentistry, these days, sometimes combines science with fine art. This requires a craftsman's skill to make sure the tooth restoration is as attractive as it is durable. After all, your smile is too valuable to be spoiled by unnatural-looking dental veneers.
The goal of a cosmetic dentist should be to provide you with an attractive, natural-appearing smile. You have a wide array of choices, and a good cosmetic dentistry professional should be happy to review the possibilities with you. For example, porcelain onlays and inlays can return structural integrity to a broken tooth, while leaving it looking as good as (or possibly better than) the original.
This is especially apparent if you now have metal fillings or a gold tooth. Metal and gold, after all, are not normal components of teeth. There's a huge difference between gold or metal combination fillings and porcelain dental crowns that reflect the translucence of natural teeth. Plus, porcelain restorations are now as strong, or stronger, than your own teeth. Ask your cosmetic dentist to take before-and-after photos so you can see the difference for yourself.
Admittedly, these more natural-appearing restorations are also a little more expensive. And many dental insurance plans may not cover all of the cost for cosmetic dental work. But in terms of your appearance (and the self-confidence it boosts), there's no comparison.