The Artistry Of Tooth Bonding and Dental Crowns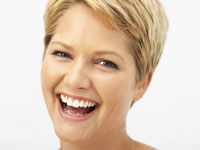 Throughout history, dentists have tried to recreate the function and beauty of natural teeth when tooth structure has been lost. Restoring function used to be the main goal of a dentist because prior to the 1970's, dentistry lacked the proper technology to achieve fine esthetics as well as function. Dentists could only predictably offer patients a restoration that would simply "fill" the empty space. Today, dentistry has more advanced dental materials and newly developed techniques that allow dentists to offer artistically-recreated, natural-looking crowns and modern tooth bonding that would fool even the most critical eye.
Before you can understand how crowns and tooth bonding can mimic teeth you must understand why natural teeth appear as they do.
What Color Are Your Teeth?
It is a common mistake for patients to think that their teeth are all one color. Your teeth are never just one color. They are a series of superimposed translucent layers of varying shades. Teeth also have different surface textures that reflect light in ways that affect the color of your teeth.
Your teeth are made up of three layers: pulp, dentin, and enamel. Each layer has a specific thickness, composition and structure. Additionally, the way light reflects off of or transluces through the layers gives you the color of your teeth. Using knowledge about the three layers of teeth allow dentists and dental technicians to recreate natural-looking dental crowns and tooth bonding.
Who Makes the Crowns?
Dental crown technicians are the true artisans in dentistry. Dentists begin the crown-making process by reducing the size of the tooth, making an impression of the reduced tooth, and selecting the proper shades of the tooth. This information is then transferred to the dental technician so a crown can be made.
Dental technicians blend science with artistic knowledge to recreate natural-looking teeth. Artistically, they use frame and reference, proportion and idealism, perspective and illusion as well as symmetry to mimic nature. Understanding the language of colors and using new dental materials and techniques has allowed the dentist to not only "fill" missing spaces but create cosmetic dentistry artwork from crowns and tooth bonding as well.
By Benjamin O. Watkins, III, DDS
Replace a Missing Tooth: Restorative Dentistry
We've come a long way from the "yank 'em" philosophy of early dentistry, before techniques and materials gave us the wherewithal to save teeth. These days, there's rarely a case we can't salvage. It's a good time for dentists - saving teeth is why we get up in the morning.
The way we see it, a missing tooth is more than just a hindrance to normal chewing, more than a cosmetic bother. It's a threat to the entire architecture of your mouth.
The mouth is dynamic. Where there is a missing tooth, neighboring teeth drift, gum disease may crop up, even the unprotected bone ridge is susceptible to damage.
So we replace the missing tooth with a dental bridge, or rescue a broken down tooth with a dental crown.
Bridges are partnered with crowns to resolve gaps left by missing teeth. The idea is to replace teeth with false, or "pontic" teeth, anchored to crowns at either end, and fixed in place. Quality bridgework looks and feels very natural, one of dentistry's mainstays and our first restoration choice whenever possible.
Partial dentures, too, are dependent on your remaining teeth for support, but are attached by clasps or "precision attachments." Complicated partials can be engineering marvels, filling in for missing teeth on both sides of the dental arch. The success of partials depends in part on the strength of attachment teeth.
Complete dentures are not the end of the line, dentally speaking. A good, well-fitting denture can come close to a full complement of teeth, and contribute to a youthful aspect, as well.
Dental implants are the newest remedy for missing teeth, to replace a single tooth, or to support an overdenture. People who have implants all agree: why didn't I do this sooner?
Replace missing teeth with cosmetic dental work? Do it. Restorative dentistry has a way.