A Beautiful Smile and Your Cosmetic Dentist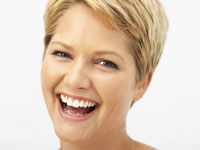 Everyone knows Mona Lisa's smile, but who knows what she meant by it?
Why do we smile?
Psychologists tell us that, in our ancient past, a smile was a gesture of appeasement. They also believe that, to modern man, a smile signals many different messages - recognition, sympathy, apology, lessening of tension, confusion, embarrassment, doubt, joy, delight. A smile, social observers agree, is a mask behind which we can hide our true feelings.
This mask is a complex gesture. First the corners of the lips curl upward. Then, as the smile grows, front teeth are exposed. In our culture we consider people with glistening white teeth and a beautiful smile to be "good" people. Bad teeth, on the other hand, tend to distort the smile "message" because, curiously, we subconsciously judge others by their teeth.
The Eyes Don't Have It - The Teeth Do!
Some people believe that teeth are a more important element of beauty than the eyes.
Have you noticed that, in the movies and on TV, the "good guys" never have broken teeth or a missing tooth? The "bad guys" almost always do.
What Does Cosmetic Dentistry Have to Do With Facial Beauty? Everything!
Nearly all dentistry affects our appearance, and our appearance affects our sense of personal worth. Among the many things that a cosmetic dentist can do to give you a beautiful smile are:
Teeth bleaching to remove stains caused by plaque, coffee, cigarettes
Teeth Whitening
Covering worn teeth (ground down by age or deformity or chipping) through application of dental crowns, dental bridges, or other cosmetic dental techniques
Teeth Straightening (orthodontics) for adults as well as children, to improve appearance and to provide better chewing surfaces
Shortening a long face, realigning a protruding jaw, correcting a cleft lip through dental surgery
So … cosmetic dentists are scientists, clinicians, artists and image-makers!
Get a Bright Smile with a Smile Makeover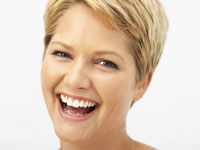 Are you completely happy with your smile? Or do you find yourself dreaming...what if?
What if those front teeth were less prominent, or maybe a bit more even? Or if that missing tooth could be replaced? Or those broken teeth were no longer chipped and/or stained?
These days, restorative dentistry isn't limited to "movie stars" or "young women" and, it can be very conservative. But a smile makeover can pay huge dividends in terms of self-esteem. Many people have experienced thrilling improvements in their appearance from some of the simplest cosmetic dental implants. The one regret? They hadn't done it years earlier!
21st Century materials (onlays, inlays and veneers) and procedures (cosmetic laser dentistry) exist now that can put a bright smile within everyone's reach. Not only that, new restorative dentistry techniques continue to advance-rapidly! Make sure your cosmetic dental care team keeps up with these techniques by reading clinical journals and participating in Continuing Education courses. Also, be sure to ask your cosmetic dentist about new discoveries so that you can stay informed as well.