Hollywood and the Cosmetic Dentist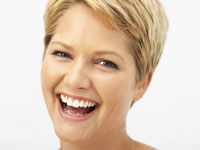 Hollywood's most fortunate faces often rely on the skills of their cosmetic dentist in ways that may surprise you.
Dustin Hoffman and Meryl Streep have perfectly nice teeth on their own. But, to meet the challenges of demanding roles in films, both used cosmetic dental appliances (dentures) to change the looks of their natural teeth.
Since women have smaller, rounder teeth, Hoffman, (who played a woman in "Tootsie") used a partial denture to make his teeth look more feminine.
To suggest the brutality of life in a concentration camp, Meryl Streep's teeth and mouth were altered for her role as Sophie Zawistowska, the poignant heroine of "Sophie's Choice."
More commonly, actors see their cosmetic dentists long before they get in front of the camera. In an image-conscious industry, it's no secret the camera is a harsh critic. And a mouth with missing teeth, or a mouthful of stained or broken teeth never helped an actor's image - or the image of a banker, doctor or secretary for that matter.
Few of us face a camera at work every day. But we all face an audience and it's the same audience that goes to the movies. The movies tell us successful people look good, failures don't. Ugly teeth can tell the tale.
Hollywood uses dentistry to make villains out of heroes - you too can use cosmetic dentistry to get a "winning" smile. Restorative dentistry is available to anyone who wants to look better.
Techniques such as dental veneers and tooth bonding have joined the traditional process of dental caps as ways to improve smiles. Orthodontic braces aren't just for children anymore, they're also available to adults who want straight teeth. In some cases, you can opt for teeth bleaching, or have your teeth lengthened or sculpted. If you think you would benefit from these treatments, ask your cosmetic dentist. Not all the new techniques will work for everyone, but he or she will be glad to discuss the best plan for your smile.
With today's new cosmetic dental techniques, you can cast yourself successfully in a competitive world with an award-winning smile.
Cosmetic Dentistry, Restorative Dentistry, The Dental Crown And The Gold Crown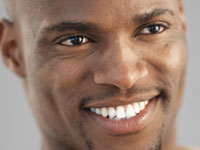 In restorative dentistry a dental crown, or caps for teeth, look and function just like natural teeth. Your cosmetic dentist may recommend a dental crown if your tooth has enough decay that it cannot hold a filling, or if your tooth is cracked or broken and in danger of cracking down into the root if left unattended. A dental crown covers your tooth completely. It fits snugly at the gum and protects what remains of the natural tooth.
Why Have A Dental Crown?
The dental crown serves two important functions. First, it restores the appearance of your teeth and your face. If your tooth is severely decayed or cracked, your cosmetic dentist will need to restore it prior to preparing a cap. Teeth also support the muscles in our faces, so anything less than a full tooth may affect the way you smile.
Second, a dental crown will be the same size and shape as the natural tooth. As a result, it will keep your jaw and bite aligned; it will also make sure that other teeth don't shift locations or take on a greater share of the work of biting and chewing.
What Is a Dental Crown Made of?
A dental crown is most often made of gold or porcelain. A dental crown also can be made of stainless steel, but those are often temporary and not designed for long-term wear.
A porcelain dental crown is usually built on a metal base, which fits snugly over the natural tooth. Your dentist will choose a porcelain that matches the color of your natural teeth. A porcelain dental crown is usually so carefully matched in color, it cannot be distinguished from your natural teeth. Many people choose porcelain dental crowns for the cosmetic appearance and the confidence it give them.
New materials are now available in cosmetic dentistry that allow your cosmetic dentist to use an "all-ceramic" dental crown in some cases. They have a beautiful life-like appearance and short-term studies support their success, with long-term trials ongoing.
A dental crown can be made of all gold. Some people prefer not to use a gold crown because it stands out from the other teeth in appearance. At the same time, if the gold crown is on a back molar, some people feel the cosmetic issue is not a big one. Your cosmetic dentist will discuss the types of materials available if a gold crown is recommended.
An Ounce of Prevention Is Still the Rule!
Once your dental crown is in place, make sure the area is brushed well and that you floss below the gum line. While the dental crown protects your remaining tooth from further decay, you must protect the base of the dental crown from bacterial growth and gum disease. Regular brushing and flossing as you would your natural teeth will ensure that your crown will be in place for years to come!
Your Gold Crown is not just royal jewelry for your mouth!
by Danine M. Fresch, DDS