Today's Restorative Dentistry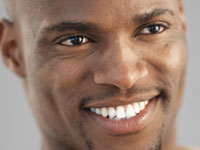 There's a bright new trend in cosmetic dental offices these days: more people are scheduling appointments because they want to, not because they have to.
In the past 15 years we've seen the development of materials and procedures we could only dream about before. And if you know someone who hasn't been to the dentist in a while, tell them they'll be pleasantly surprised by what they find.
Pain control
Dental medicine has come a long way from the days when whiskey was the anesthetic of choice. Today's dentistry is virtually painless. Technology, stress control techniques, and some very sophisticated approaches to anesthesia have all contributed to painless treatment - from cleaning to cavity preparation to root canal treatment.
Cosmetic dentistry
A new discipline has grown up around restorative dentistry procedures. But, does it show in a smile?
Tooth whitening is a simple, inexpensive way to lighten stains and discolorations on teeth without altering the natural structure.
Dental bonding has come of age with the refinement of bonding resins. There's no limit to the cosmetic "magic' we can work on a smile - close gaps, reshape teeth, lengthen here, brighten there.
Tooth-colored filling materials are getting prettier - and stronger - every day
Dental Implants - Though people are keeping their teeth longer and longer, part of the older population still has to deal with missing teeth. For those denture wearers who've always hoped for something better, dental implants can be a kind of dental rebirth.
The future of dentistry looms exciting, too. Cosmetic laser dentistry, fiber optics, computer-aided design - all are finding applications in dentistry. Cosmetic dentistry - it's a whole new ball game.
Dental Crowns And The Dreaded Black Line: A Dead Giveaway That It's A Fake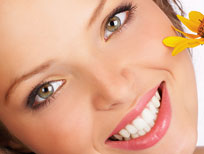 We have all seen smiles that you know have dental crowns in the front. You look at them and say to yourself that something is not natural. Many times, it is the dark rim of gum tissue that gives it away. The dark rim of gum tissue does not occur around natural teeth, only around teeth that have been covered with dental crowns.
What Causes the Dark Line on My Gums?
The dark line is associated with an old porcelain dental crown. This style of dental crown is referred to as porcelain fused-to-metal dental crowns because it uses tooth-colored porcelain on the outside and it uses metal under the porcelain for strength. The dark line originates from the edge of the dental crowns where the porcelain and the metal meet at a knife-edge at the gum line. At the knife-edge, a very thin amount of the metal always shows. One of the illusionary techniques cosmetic dentists have used was to hide the thin dark line under the gum line. Over time, the gum tissue would recede and expose the dark line. In some patients the dark line would show through the gum and make it appear dark as well.
How Do You Get Rid of It?
The only way to eliminate the esthetic problem is to replace the dental crowns. When replacing just one single dental crown in the front, you should expect that it might take more than one try-in of the new dental crown before it is permanently cemented into place. Because your central incisors are the most prominent teeth in the mouth, matching them is the most difficult esthetic challenge. Only the best dental technicians are able to mimic one central incisor tooth next to another.
What Are Some of the Replacement Dental Crowns Like?
Some of the clever ways dentists and dental technicians have been able to mimic natural teeth is through the new advancements in dental materials. New all-tooth-colored ceramic dental crowns are the latest technological advancement cosmetic dentists have to recreate natural teeth. In comparison to porcelain fused-to-metal dental crowns, all-ceramic dental crowns do not contain any metal, thus no dark line can appear.
Some advantages and disadvantages of all-ceramic dental crowns are as follows:
Advantages of All-Ceramic Dental Crowns
High esthetics
Excellent fit
If gum recession occurs, there is no dark line
Disadvantages of All-Ceramic Dental Crowns
< li>Not as strong as porcelain-fused-to-metal dental crowns
Cannot be used in all areas of the mouth
Dental crowns often need to be replaced after several years of service for esthetic or functional reasons. With the growing esthetic awareness of patients and the available ceramic technology, this type of re-treatment is becoming more common in the dental office.
By Benjamin O. Watkins, III, DDS