The Psychology of Cosmetic Dentistry Work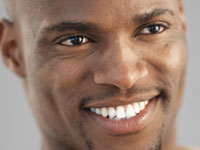 We all suspect that how we look makes a difference in our lives. Think of the days when everything is going fine - that's a day you're feeling good and probably looking good.
In our teens, looks are everything. But as we get older, we tend to take our appearance for granted, and rely instead on our skills and professional competence to make up for any "cosmetic" imperfections.
Well, "cosmetic" is more than skin deep. We form very real biases about the people around us, even as adults, based on the simple fact of appearance. And the most critical factor in such judgments, according to copious research, is the teeth.
Yes, women are concerned about shape, as men are impressed by height. But everyone reacts the same to a healthy, beautiful smile. Whether we like it or not, people with straight white teeth are perceived to be more honest, more productive, more out-going, trusting, successful - you name it - than their counterparts with a missing tooth or broken teeth.
Your dentist has seen this psychology at work. For his or her patients, children and adults alike, cosmetic dentistry has made a tangible improvement not just in smiles, but in the quality of lives. A smile enhanced by restorative dentistry brings dramatic changes - changes more than "skin deep."
With new materials and techniques - tooth bonding, teeth bleaching, dental veneers, invisible braces - your cosmetic dentist is excited about the "magic" he or she can make. They've seen self-esteem grow before their eyes. Your dentist can help you look good, feel good, and get on with a healthy, vital life. Cosmetic dentistry? Go for it!
Dental Makeover: Does My Smile Make Me Look Older?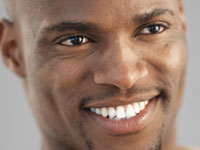 When you look in the mirror, what do you see? Is the reflection you see not quite what you used to see? Do you say to yourself, "I don't feel any older, but I see an older person." Getting older is an inevitable process, but you don't have to look older, too.
When it comes to looking younger, there are all sorts of products and procedures available so you can look your best (such as anti-wrinkle gels, cosmetics, skin treatments, facelifts and day spas). One of the procedures that is the least emphasized, but can have a profound yet subtle effect, is an improved smile from a dental makeover.
Why Does Your Smile Look Older?
It's typical that most adults don't realize that their smile is not as bright as it used to be. Coffee, tea, red wine, smoking, and the normal, and sometimes heavy, wearing away of tooth enamel have cumulative effects on the teeth. As we age, our smile begins to look a little discolored.
Old dentures can become yellow or gray, which will make your smile appear older. In fact, dentures will naturally pick up stains and wear down faster than our natural teeth. If you have had the same dentures for more than six years, they require a dental makeover. New dentures should be made every six to ten years and relined every three to five years.
How Can a Dental Makeover Make My Smile Look Younger?
The fastest and easiest way an esthetically minded person can get a dental makeover is through bleaching or tooth whitening. It can be achieved either through an at-home or in-office process. Now, there are over-the-counter products that will whiten your teeth; however, for safe and predictable changes with dramatic results, there is no substitute for the dental office.
Are There Any Other Ways to Make My Smile Look Younger?
Bleaching is usually the first step to achieving a more youthful appearance to your smile. Not only can you brighten your smile through bleaching, but the physical appearance of your teeth can also be improved. Applying composite bonding, porcelain veneers or crowns to your teeth is the ultimate in dental makeover and cosmetic dentistry enhancements.
When these options were presented to one patient, she couldn't envision the immediate change the procedures would have on her smile. In front of a mirror, I showed her the gradual changes that had occurred over time due to the wearing and staining of their tooth enamel. The patient decided to have her teeth whitened and her front teeth artistically rejuvenated with porcelain veneers. When the patient went to work after the procedure was complete, her coworkers noticed a difference, but couldn't exactly identify the change in her overall appearance. They thought that she did something different to her hair or was losing weight. No one guessed that subtle improvements had been made to her teeth.
It's never too late to care more about your smile and make immediate improvements with a dental makeover. A small change today can enhance your smile for years to come.
By Benjamin O. Watkins, III, DDS