How Do I Care For My Perfect Teeth After Visiting a Cosmetic Dentist?
Have you had esthetic enhancements to your teeth or just naturally have great looking, perfect teeth? Here are some dentistry tips to maintain your picture perfect smile.
n order to maintain a healthy smile, you have to know what types of things are damaging to the teeth. Identifying and eliminating bad oral habits is the key to retaining a great smile for many years. Sometimes we are not aware that we are harming the health of our teeth. Do you:
Grind your teeth?
Casually bite your fingernails or a pen?
Crunch ice?
Have a diet high in sugar (such as soda, chewing gum and candy)?
Drink coffee, red wine and tea? Smoke or chew tobacco?
Force your tongue against your upper teeth?
If you answered yes to any of these questions, you are in danger of causing a detrimental effect on your new perfect teeth and smile.
How Detrimental Are the Effects? No one can predict the exact effects that the habit will have on your newly perfect teeth, however, the longer the duration of the habit, the greater negative effect it will have on the longevity of your smile enhancements.
How Can I Eliminate My Bad Oral Habits and Protect My Perfect Teeth?
The first step to eliminating a bad habit is to identify and acknowledge that you have one. If your habit is crunching ice, you must alter or eliminate it from your day-to-day routine.
Other habits are harder to break like grinding your teeth. Grinding the teeth is generally an involuntary action and usually occurs when asleep. Because the habit is difficult to break, a plastic night guard is the best solution to prevent excessive wear of your teeth.
A night guard is a clear plastic mouthpiece that is custom-fitted to snap over your teeth, much like an athletic mouth guard. The night guard is designed so your teeth grind on the plastic, not your teeth. The night guard will wear out, but your teeth will not.
Do not neglect your teeth, especially if you have had esthetic enhancements. Your enhancements will not last forever, so in order to preserve your perfect teeth, have regular dental check-ups and do your best to eliminate bad oral habits.
By Benjamin O. Watkins, III, DDS
The Artistry Of Tooth Bonding and Dental Crowns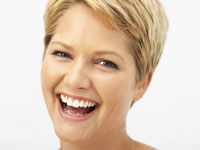 Throughout history, dentists have tried to recreate the function and beauty of natural teeth when tooth structure has been lost. Restoring function used to be the main goal of a dentist because prior to the 1970's, dentistry lacked the proper technology to achieve fine esthetics as well as function. Dentists could only predictably offer patients a restoration that would simply "fill" the empty space. Today, dentistry has more advanced dental materials and newly developed techniques that allow dentists to offer artistically-recreated, natural-looking crowns and modern tooth bonding that would fool even the most critical eye.
Before you can understand how crowns and tooth bonding can mimic teeth you must understand why natural teeth appear as they do.
What Color Are Your Teeth?
It is a common mistake for patients to think that their teeth are all one color. Your teeth are never just one color. They are a series of superimposed translucent layers of varying shades. Teeth also have different surface textures that reflect light in ways that affect the color of your teeth.
Your teeth are made up of three layers: pulp, dentin, and enamel. Each layer has a specific thickness, composition and structure. Additionally, the way light reflects off of or transluces through the layers gives you the color of your teeth. Using knowledge about the three layers of teeth allow dentists and dental technicians to recreate natural-looking dental crowns and tooth bonding.
Who Makes the Crowns?
Dental crown technicians are the true artisans in dentistry. Dentists begin the crown-making process by reducing the size of the tooth, making an impression of the reduced tooth, and selecting the proper shades of the tooth. This information is then transferred to the dental technician so a crown can be made.
Dental technicians blend science with artistic knowledge to recreate natural-looking teeth. Artistically, they use frame and reference, proportion and idealism, perspective and illusion as well as symmetry to mimic nature. Understanding the language of colors and using new dental materials and techniques has allowed the dentist to not only "fill" missing spaces but create cosmetic dentistry artwork from crowns and tooth bonding as well.
By Benjamin O. Watkins, III, DDS